**This board is designed for discussion of wealth ideas / opportunities. It is NOT investement advice and we are not investment advisors. Any information found here should be reviewed with an investement advisor before investing. Please due your own due diligence.
Notes on Tesla China
5/5/2020 11:35:54 AM
By: RGF
This was part of some info on Tesla's liquidity. Admittedly written by a short. I certainly hope other supposedly US companies don't have similar contracts.
The Implications of the China Agreements
In the wake of the two articles about from me and MaxedOutMama about Tesla's agreements in China (here and here), some still remain confused about the implications of those agreements.
Here's a simplified attempt to explain those implications.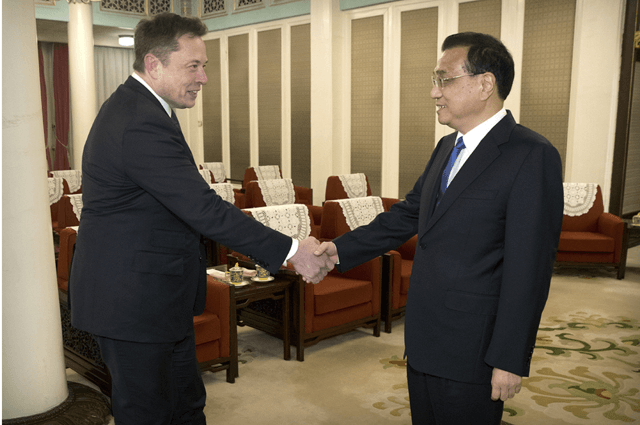 (Tesla's CEO with Chinese Premier Li KeQiang, who in January offered him permanent residency. Mark Schiefelbein photo/AFP/Getty Images)
Use Your Imagination...
Imagine that China created a car company and called it Tesla Shanghai. Tesla Shanghai then copied Tesla's vehicle designs, used Tesla's intellectual property, and even slapped on Tesla's logo so that the Tesla Shanghai cars were indistinguishable from those made in Fremont.
Imagine further that Tesla Shanghai sourced Chinese parts for those cars and, of course, used only Chinese labor. Predictably, China's car company - Tesla Shanghai - would enjoy far lower supplier and labor costs than does Tesla US, and would enjoy as well much lighter environmental and labor law scrutiny. The Chinese company also would have none of the legal fees, lawsuit liabilities, New York State obligations, and other legacy costs that plague the Tesla US operation.
Obviously, the China company would be making in Shanghai the same car that Tesla US is making in Fremont, but at far less cost than Tesla US pays. Consequently, Tesla Shanghai would not only capture all the domestic Chinese demand that Tesla US formerly supplied, but also would begin capturing demand in other geographies now served by Tesla US's Fremont plant.
Well, you say, that's not at all the case because in reality Tesla US actually owns Tesla Shanghai. Alas, while Tesla US does technically own Tesla Shanghai, Tesla US does not, in many crucial ways, enjoy the benefits we typically think of as belonging to ownership. Because of the restrictions in the Grant Contract and loan agreements, Tesla US will be unable to extract even one nickel from Tesla Shanghai's operations for years to come.
Said another way, Tesla US owns the equity in Tesla Shanghai. That means Tesla US owns the residual claim on Tesla Shanghai's assets, after all creditors and other lienholders have been paid in full (subject to all the vagaries of the rule of law in China).
There are very few ways to extract cash from a subsidiary whose equity you own. You can sell the subsidiary, or cause it to pay dividends to the parent, or cause it to loan money to the parent. Under the agreements Tesla Shanghai signed in China, none of those routes is open to Tesla US.
You also can use transfer pricing - that is, having Tesla Shanghai sell its exported cars to Tesla US for a price that is lower than the price at which Tesla US can resell the cars. We may see such transfer pricing once Tesla Shanghai begins exporting in earnest. However, it seems a solid bet that the Chinese government will keep a tight rein over how generous such transfer pricing is permitted to be. And, in all events, it's demand for the product, in a shrinking market under economic duress, that will most limit any benefit of transfer pricing.
It's Even Worse...
And it's even worse than all that. Tesla US is being required to pour $711 million into Tesla Shanghai. All that money will likely be contributed before this year ends.
Unable to extract any profits from Tesla Shanghai (if profits there are) other than via transfer pricing, and facing shrinking demand in both the U.S. and Europe, Tesla US's Fremont factory will be badly underutilized, resulting in greater losses. The only likely solution will be to shutter Fremont and move the entire operation to China.
As MaxedOutMama and I clearly and comprehensively laid out, this is the economic reality of Tesla's agreements in China.
Tesla has never revealed any of this. No analyst has mentioned any of this. No mainstream business publication has written about any of this. Their silence is to their shame. But their silence does not change the facts.
Indeed, the facts get even worse. As its "target production," Tesla Shanghai is required to generate revenues of at least RMB 75 billion by the end of 2023 (a fact which Tesla has never disclosed). At an ASP of $35,000, and using today's exchange rates, that works out to minimum annual production of 300,000 cars. The target production alone is an obvious constraint on any benefit to be achieved from transfer pricing.
If Tesla Shanghai fails to meet the target production, then Tesla US forfeits the factory (with, we believe, China free to continue using the Tesla intellectual property and brand).
Or, as seems more likely, if Tesla Shanghai meets the target production, then it's all but certain that Tesla Shanghai will be a major exporter of Tesla vehicles, further starving the Tesla US operation (and, if Tesla goes ahead with a Brandenburg factory, starving that operation as well).
Lack of Segment Reporting Adds Uncertainty to Cash Burn Estimates
As MaxedOutMama and I have pointed out, the lack of detailed segment reporting on Tesla's Shanghai operations makes it impossible for investors to assess the true state of Tesla finances.
That's true as well for the cash burn estimates in this article. For instance, if more or less of the finished goods inventory is located in China, then less or more of the proceeds from sale of the inventory will be available to mitigate the effects of the cash burn on the Tesla US operation, where it really counts.
Investment Considerations
If the cash burn from the coronavirus shock does not undermine Tesla US's financial footing in 2020, the implications of the deal made with China eventually will. Some day, the market will wake up to these realities. It's simply impossible, however, to say when that day will come.
There's also the geopolitical risk inherent in the rising tensions between China and the West. Consider the spectacle, during the recent conference call, of Tesla's CEO in one moment praising China's infrastructure development while, in the next moment, condemning the U.S. governmental shelter-in-place rules as a fascistic deprivation of Constitutional rights. And making that condemnation with a curious amnesia about the radical steps China took in Wuhan (including welding shut the doors of some of its citizens).
Investors would do well to consider all these risks.
For now, the share price of this stock remains positively ludicrous. In the day following publication of the Quarterly Update, Tesla, with its $16 million Q1 result annualized to a $64 million GAAP profit, traded at a P/E multiple of 9,000.
Any retail short position should be small, and carefully hedged. Any retail long position should be taken with the understanding this is by no means a "buy-and-hold, sleep-at-night" stock.
The strongest thesis for the long position is continued evasions and insufficient reporting from Tesla, and continued sleep-walking by the analysts and business press about China.
Disclosure: I am/we are short TSLA. I wrote this article myself, and it expresses my own opinions. I am not receiving compensation for it (other than from Seeking Alpha). I have no business relationship with any company whose stock is mentioned in this article.
Additional disclosure: I am short TSLA via long-dated call spreads. I continue to regard the stock as immune from reality, and strongly discourage shorting in any form by retail investors.
While I have to accept Badger's expertise in such matters, I was struck by the fact that he only estimates that Tesla will have paid only $900 mil in April against $4 bil in accts payable. It's a pretty forgiving bunch of trade creditors that are allowing Tesla that much slack. Especially when Badger only forecasts $500 mil in A/P drawdown for May. That would still leave more than $2.5 bil in unpaid A/P that are at least 60days old. Either Tesla's suppliers are somehow over a barrel and will put up with that kind of treatment or the amount of A/P burn is underestimated.
To report a factual error in this article,
click here
.
Your feedback matters to us!
Related Posts